Data stories. Local beer.
Join your DataBeers community.
DataBeers is a recurring FREE event open to the general public. The aim is to bring people together to talk about any and all aspects of data in a relaxed environment lubricated with some beers.
It started in Madrid back in 2014 and has since grown and spread to more than 18 cities around the world. You can see the map here.
A central part of each meeting is a selection of short (<7min) and entertaining talks about data.
Summer came to a close and we geared up for the next DataBeers Brussels! The 12th edition took place on Thursday, 26 September 2019 at 19h30 in… Read more "Databeers Brussels no.12"
The 11th edition of DataBeers Brussels took place on Thursday, 16 May 2019. The event was sold-out and we had a group of amazing speakers! Our speakers… Read more "Databeers Brussels no.11"
This slideshow requires JavaScript.
Want to share your data story or nominate someone else? Let us know, we're always on the look-out for new speakers and ideas.
Write us at databeersbrussels@gmail.com.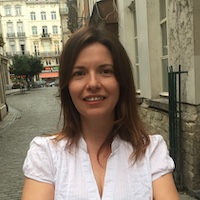 Jelena Grujic
Jelena is a co-founder of the DataBeers Brussels chapter. She works at the Vrije Universiteit Brussel's Artificial Intelligence Lab. She is a data scientist with a background in physics, experience in game theory, complex networks, machine learning and big data. She has a lot of experience with public speaking, training people to give public talks and organizing scientific events for general public. Learn more.
Our events wouldn't be possible without the support of Alina Suchockaite, Thomas Rafflin, Christina Makarona, Denis Steckelmacher, and Zane Meždreija.