On Monday, 28 January 2019, we hosted our 9th edition of DataBeers Brussels. We had a fun evening of super cool data stories and beer.
Our speakers and their topics, included:
Sarah Baatout (Belgian Nuclear Research Centre) with 'Preparing for Mars by living in Antarctica'

Daniele Marinazzo (University of Ghent) with 'Shared information: a closer look at social & psychological data'

Piia Karjalainen (Ertico) with 'Unifying different mobility platforms across Europe'

Jelle Grammens (Crunch Analytics) with 'My machine knows beer better than you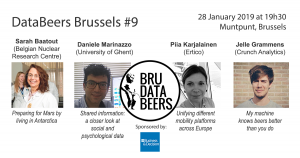 Stay tuned for Databeers #10!